Enjoy The Food & Drinks At Darlings Pub & Cafe!
Good Food, Good Company, And An Amazing View!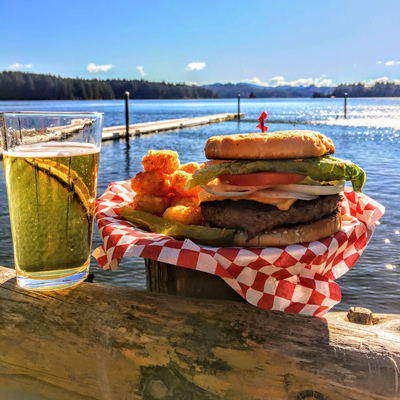 Darlings Marina Pub & Café is located on the north shore of Siltcoos Lake, six miles south of Florence Oregon and within listening distance of the mighty Pacific Ocean.
Chef Craig Hogan (Craig's BBQ) creates a unique culinary experience combining American homestyle with traditional Southern barbecue. Our delicious foods are complemented with Oregon's most popular local craft brews and ciders, on tap.
Part campground, part fishing resort, part neighborhood hangout, Darlings provides a comfortable, friendly atmosphere that makes you want to grab a warm blanket and a hot chocolate and cuddle up on the front deck to enjoy an enchanting view of Siltcoos Lake.
Come and relax and Darlings Marina where you'll find good food, good company and an amazing view. Check out our weekly specials on our Facebook page. And Facebook Check-in @ #iheartdarlings
View Our Menu... You Know You Want To!